WHY JOIN TEXAS NORML?
BECAUSE TEXAS HAS CHANGED, BUT OUR LAWS HAVE NOT.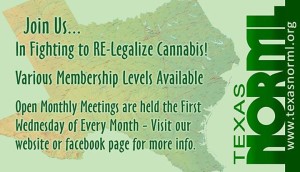 The polls show it. Texans do want access to cannabis. They want reduced penalties. They want wide medical access. We just need to change some laws.
To do that, we have to be in the building. We have to be at the meetings. The elected reps who believe their fears over their constituents need to know WE ARE the power here.
And the only real power is in the collective action of members like you.
Texas NORML is at the capitol, lobbying, meeting legislators, hearing concerns, and pushing for change. Often, it is agonizing, slow progress. You may rightly want to know why and how next session should be any different.
YOU ARE WHY.
And together, we are how.
We're gonna be a bigger org. We're gonna train our members to change their local laws. We're going to change the laws that stand against the will of Texans, thanks to the power of people.
ARE YOU A PART OF THIS?
YOU ARE WHAT'S NEEDED TO CHANGE TEXAS LAW.
You can support this work at various levels: